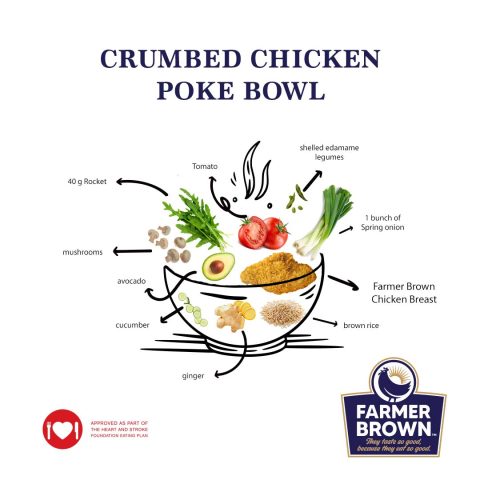 Farmer Brown Crumbed Chicken Poké Bowl
Indulge in a harmony of flavours with our Farmer Brown Crumbed Chicken Poké Bowl, featuring tender crumbed chicken atop a bed of nutty brown rice, vibrant veggies, and a tantalising soy-based sauce. A fusion of textures and a burst of umami await in every bite. A wholesome and delightful culinary experience in a bowl.
Ingredients
For the Poké Bowl
1

box

Farmer Brown Wholegrain Breast Fillets

40

grams

rocket (arugula)

200

grams

rice

brown

1

ripe

tomato

diced

100

grams

shelled edamame legumes

thawed if frozen

1

bunch

fresh spring onions

thinly sliced

1

piece

ginger

freshly grated

1

piece

cucumber

thinly sliced

1

ripe

avocado

sliced

8

mushrooms

thinly sliced
For the Irresistible Sauce
60

ml

soy sauce

30

ml

rice vinegar

15

ml

sesame oil

15

ml

honey

1

clove

garlic

minced
Instructions
For the Poké Bowl
Prepare the Base: Cook 200 grams of brown rice following the package instructions. Once done, fluff the rice with a fork and let it cool slightly. Note: If you're living a carb-free lifestyle, replace the rice with alternative bases like lettuce or zucchini noodles.

Craft the Sauce: In a small bowl, combine 60 ml of soy sauce, 30 ml of rice vinegar, 15 ml of sesame oil, 15 ml of honey, and a clove of minced garlic. Mix well and set the sauce aside.

Assemble the Poké Bowl: In two serving bowls, divide the cooked brown rice as the base of your poké bowl.

 Add Fresh Elements: Arrange the following ingredients on top of the rice, creating a visually appealing arrangement: 40 grams of rocket (arugula). Diced tomato. Shelled edamame legumes (100 grams). Thinly sliced spring onions. Grated ginger (2.5 cm piece). Thinly sliced cucumber. Sliced avocado. Sliced mushrooms.

Drizzle the prepared Savoury Sauce over the ingredients. Adjust the amount based on your taste preference.

Gently toss all the components together to combine amazing flavours and textures.

Serve your Crumbed Chicken Poké Bowl immediately and enjoy a delightful and satisfying meal!
Notes
What are Poké bowls? Poké bowls originated from Hawaii and derive their name from the Hawaiian word 'poké,' meaning 'to slice.' These contemporary creations are a delightful fusion of fresh and vibrant ingredients. Typically centered around chicken or fish, they incorporate pickled vegetables, perhaps a touch of fruit, sticky rice, and a plethora of delectable sauce choices. These bowls offer a symphony of flavours, textures, and colours, making them a delightful and versatile meal option, suitable for any occasion.
There are 3 options for your crumbed chicken, these include Farmer Brown Lightly Dusted Breast Fillets; Farmer Brown Sourdough Breast Fillets; or Farmer Brown Wholegrain Breast Fillets. 
Why Farmer Brown:
Take a walk around our Farmer Brown chicken farms and you'll notice that over the years not much has changed at Farmer Brown. Our secret is simple: we treat our chickens with expert care and respect to bring you that Farmer Brown taste you've come to love. Our chickens live in a cage-free environment that allows them to peck and scratch around while feeding on our specially selected diet at their leisure. Our cuts are carefully trimmed and chilled, so that you are always guaranteed fresh, great-tasting chicken.
Farmer Brown crumbed chicken is made with 100% whole chicken breasts giving you the best quality and homemade taste. Our chickens live in a cage-free environment. Our chickens are not fed growth hormones.  chicken producers in south africa
Rainbow is a fully integrated broiler producer, and is the leading chicken producer in South Africa. We are involved in every step of the process delivering fresh, frozen and further processed chicken of superior quality.